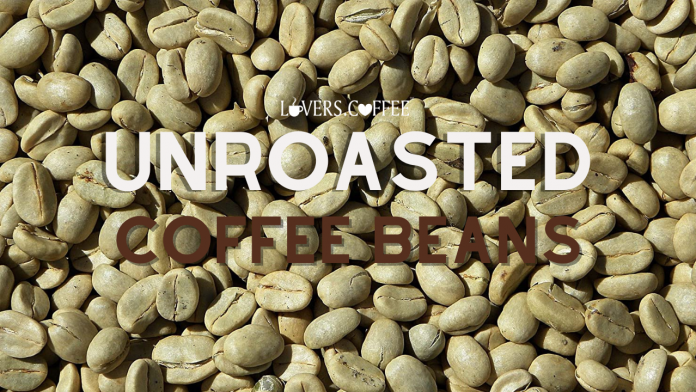 If you want to purchase unroasted or green coffee beans, there are a few options available to you. For example, some grocery stores or health food markets may sell unroasted coffee in bulk bins or packages. You can also purchase green beans online at websites like Amazon.
I have put together some of the best-unroasted coffee beans you can buy today!
Beans are a staple in any coffee drinker's pantry, and when you buy them fresh, they're delicious. Freshly roasted beans have a sweeter, more complex flavor than older ones. Home roasting gives you full control of your roast profile and allows you to experiment with different degrees of darkness and toastiness.
Note: Due to their chemical composition, green coffee beans can spark or smoke if ground prior to roasting.
Their 5-pound bag of unroasted coffee beans is perfect for those who love roasting their coffee. The coffee beans are sustainably sourced and koshered certified. Roast them to your exact preference, and then enjoy in your favorite brew method!
Rich in flavor and smooth on the palette, these Unroasted Whole Green Coffee Beans are grown at high altitudes in lush volcanic soil and flash-dried to preserve their delicious acidity and flavorful body. These beans are perfect for a delicious cup of joe with notable acidity and a flavorful body!
Whether you're a serious home roaster or just beginning to explore the craft, this selection of specialty coffees from Brazil will make an excellent addition to your kitchen pantry. They hand-select each variety for its unique flavor profile and characteristics.
On top of having an exceptional taste and aroma, these beans are also extremely consistent and perfect for espresso, cappuccino, or any other type of coffee concoction you'd be interested in.
These unroasted, raw coffee beans are the perfect choice for those looking for a super fresh and clean cup of coffee. These beans come from the finest micro-regions of Colombia, with no additives or flavorings added before roasting. It's fair trade, shade grown, and organically certified as well. It also comes in our 3-Layer natural kraft foil bag to ensure top-quality freshness for your coffee beans.
If you're a coffee lover, these Ethiopian beans will come as no surprise. They're sourced from Kochere, a town outside Yirgacheffe, a region known for growing some of the best-tasting beans in the world. These beans are grown on smallholder farms using organic farming methods and are washed, dried, and graded by hand.
If you're just starting out with roasting your own coffee beans, then it might be worth buying a specialty sample pack like this one. It gives you a chance to try out different kinds of beans and get to grips with the roasting process.
Whether you're a purist or just love a good cup of coffee, these Brazil Cerrado and Colombia Supremo flavor profiles are sure to satisfy your taste buds. Both beans have rich, full-bodied flavors that combine dark chocolate with walnuts and caramel with orange.
Tips for Buying Green Coffee Beans
– Coffee Producing Origins
Farmers usually grow good quality coffee on a single farm and at a specific altitude. If you can see this information on the package, it's likely a good batch. However, if the only information available is the sub-region, then it's probably not from a single farm, and I wouldn't recommend buying it.
– Coffee Bean Appearance & Texture
If you're wondering about where to find the best green coffee beans, don't worry – they can come in different appearances. For example, you might find some that are covered in brown or silver skin. This is called a fox bean in Brazil and is actually quite normal for naturally dried or processed coffee beans. So don't worry if you see this – it's not a defect!
Be sure to check if the coffee beans have any pink skin on them or inside of them (crack some to check). This might be a defect.
When you're ready to pick the beans, make sure to check if they're faded or have white edges. This could mean that they weren't dried properly, either from the temperature being too high or from being stored in humid conditions.
Finally, select the green coffee beans and feel their texture. If dried at a higher temperature or for a longer period than ideal, they may feel fragile
– Coffee Bean Sizes
Another important tip to remember when purchasing green coffee beans is to select beans that are consistent in size. The use of a coffee screen usually indicates that the beans are properly sorted. This results in a better-tasting cup of coffee.
All your roast potatoes must be roughly the same size. If they're not, they won't cook evenly and won't look as good when you serve them.
– Coffee Bean Scent
If you want to ensure that your coffee beans are of the highest quality, take a quick sniff before buying them. Smoking or fermenting them will damage them, and their flavor will be less than ideal. Once roasted, these scents will be more subtle.
Conclusion
If you want to buy unroasted coffee beans, there are a few places you can go. You can buy them online, at a specialty store, or grocery store. There are also a few different types of unroasted coffee beans, so you'll want to decide what type of bean you want before you purchase it.