Tiramisu is a famous Italian dessert, and the word literally translates to "carry me up" or "Cheer me up." The tiramisu recipe includes two main ingredients: savoiardi, also known as ladyfinger (biscuits), and coffee, while other ingredients include eggs, mascarpone cheese, sugar, and cocoa.
The origin of the tiramisu recipe is often disputed in the two Italian regions named Friuli Venezia Giulia and Veneto. It is believed that the recipe was created for the first time during the 1960s or 70s; however, the exact location and time are still unknown.
For years, tiramisu has been one of the most favorite desserts around the world, especially for coffee and espresso lovers. I have gathered some of the best tiramisu recipes for espresso lovers, so you can enjoy a perfect piece of tiramisu after making it from scratch; let's get started.
Best Tiramisu Recipes
1. Chocolate-Espresso Tiramisu
Ingredients
Strong brewed espresso – ¼ cup
Ladyfingers – 24
Bittersweet chocolate – 3 oz., chopped
Coffee liqueur – 2 tbsp.
Whipping cream – 1 cup
Mascarpone cheese – 8 oz.
Vanilla – 1 tsp.
Powdered sugar – ¼ cup
Brewed espresso or coffee liqueur – 2 tbsp.
Choco covered coffee beans – as per requirement
Semisweet melted chocolate – optional
Method
For this tiramisu recipe, ensure you have all the ingredients ready and follow all the steps properly. First, layer the ladyfingers in a baking dish. Soak them with two tablespoons of brewed espresso as well as one tablespoon of coffee liqueur.
Take a microwave-safe small-sized bowl and add three oz. of chopped chocolate to it. Microwave the chocolate for fifty seconds or one minute on medium power. After the chocolate has melted, let it cool down for at least 15 seconds.
Now it's time to use the mascarpone cheese. Get a large bowl and add whipping cream, mascarpone cheese, vanilla, and powdered sugar to it. After adding all the ingredients, use an electric mixer to mix them perfectly. Beat the mixture until small peaks start forming. Now add the melted chocolate and two tablespoons of coffee liqueur or brewed espresso in it and mix the mixture again.
Now it's time to assemble the delicious chocolate-espresso tiramisu. Spoon out half of the mascarpone cheese mixture and spread it over the ladyfingers you set in the first step. Top it with any remaining ladyfingers, and don't forget to drizzle brewed espresso and coffee liqueur over them. Now spread the rest of the mascarpone cheese mixture. Put the tiramisu in the fridge for at least 7 to 24 hours. Sprinkle some chocolate-coated coffee beans and melted chocolate over it before serving.
Recipe Courtesy: https://www.bhg.com/
2. Espresso Martini Tiramisu
Ingredients
Brown sugar – 4 tbsps.
Mascarpone cheese – 500 grams
Strong black coffee – 400 ml
Vodka – 4 tbsp.
Double cream – 600 ml
Espresso coffee powder – 2 tbsps.
Vanilla extract – 1 tbsp.
Cocoa powder – as per requirement
Dark chocolate – 50 grams
Savoiardi/ ladyfingers – 30 pieces
Kahlua – 4 tbsps.
Icing Sugar – 3 tbsps.
Method
Take a shallow bowl and add the coffee, Kahlua, vodka, and brown sugar. Mix these ingredients until they are smooth.
Now take a separate bowl and add mascarpone cheese to it. Break the cheese down until smooth and beat it with double cream, vanilla extract, and icing sugar until soft peaks start forming. Take out 1/3rd of the mascarpone mixture in another bowl and mix the rest of the coffee powder and Kahlua to make coffee cream.
Soak the ladyfingers in the vodka and coffee mixture you prepared in the first step, and layer them in a serving dish. Layer a generous amount of mascarpone mixture, and top it with grated dark chocolate. Once again, layer the rest of the ladyfingers over the dark chocolate, top it with coffee cream and dark chocolate.
For the next layer, use the mascarpone mixture again to layer the ladyfingers. Place the tiramisu in the fridge and let it chill for at least 4 to 5 hours. Lastly, dust it with cocoa powder and serve.
Recipe Courtesy: https://www.olivemagazine.com/
3. Tiramisu Espresso Cup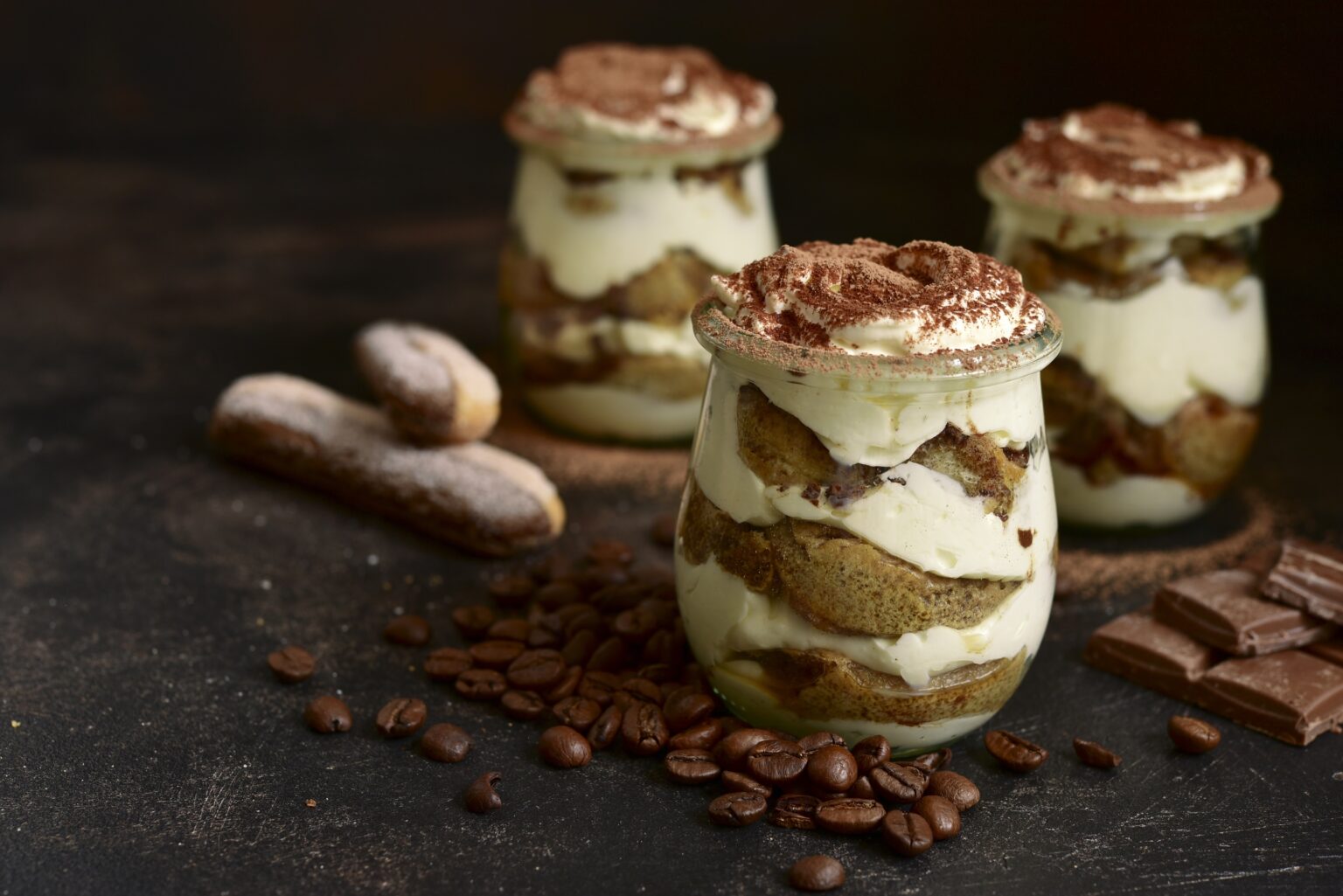 Ingredients
Mascarpone cheese – 2 tbsps.
Espresso coffee – 15 ml chilled
Chilled mocha – 125 ml
Greek yogurt – ½ cup
Cocoa powder – ¼ tsp.
Ladyfingers – 3 pieces
Method
This tiramisu recipe can be made as a snack as it doesn't take much time or effort to make. Simply mix the chilled mocha with coffee. Take another bowl and mix the Greek yogurt, mascarpone cheese, and one tablespoon of the coffee mocha mixture together. Let this mixture set in the fridge for a while.
Grab a serving glass, and layer 1 and ½ ladyfingers in its base. Drizzle the coffee mocha mixture over the ladyfingers, and let the biscuits soak it for a few minutes. Now layer the biscuits with the mascarpone mixture. Put another layer of the coffee and mocha-soaked ladyfingers on it and then the mascarpone mixture. Repeat the layering once again and dust the tiramisu cup with cocoa powder to serve it chilled.
Recipe Courtesy: https://nutricia.com.au/fortisip/
Conclusion
Tiramisu is a world-renowned dessert, and there are hundreds of tiramisu recipes that people try to satisfy their espresso-flavored dessert cravings. I have gathered the above-mentioned tiramisu recipes specifically for espresso lovers so they can enjoy every bit of it. Making tiramisu itself is an art, and one should always try to be an artist.